CODESYS in Embedded Automation
or the development of special-purpose control devices which require on-site adaptation by the application engineer, CODESYS is the first choice development platform – e.g. for controllers in industrial compressors, industrial weighing and dosing and medical technology.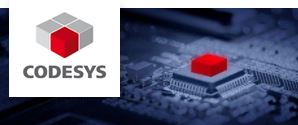 Why is that so?
CODESYS is a complete, integrated development environment (IDE) and includes all programming functions as well as a comprehensive debugging and monitoring functionality.
CODESYS supports the most common industrial 32 bit CPU architectures with complete backends, consisting of integrated compilers and an adaptable runtime system for platforms like Infineon C167 / Tricore, Arm/Cortex, PowerArchitecture, Renesas SH or Intel Atom/80×86.
The CODESYS Control Runtime System can be ported to almost all operating systems or to devices without operating system.
Due to the separation of system software (runtime system) and application, devices can be implemented by application specialists instead of software engineers.
The integrated CAN/CANopen support and the possibilities offered by the CODESYS TargetVisu provide a genuine added value for embedded applications.
For more information please contact:
DOR Engineering Ltd. 972-3-9007595
info@doreng.co.il